About Us
New Beijing City is a Chinese takeaway in Kent. Why don't you try our Crispy Aromatic Duck or King Prawn with Bamboo Shoot?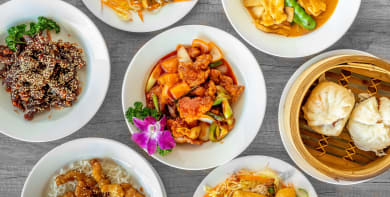 Reviews
204 reviews
philip
"Very nice food"
31/07/2021
Esther
"The food was good but my only thing was the portion size for the rice was smaller than I expected. But overall it was nice"
20/07/2021
Danny
"Great food and perfect delivery"
24/05/2021
Nick
"food was fantastic,hot and pleasant delivery driver.well done"
23/05/2021
Menu
Chips in Spicy Salt & Chilli
Contains:
Sesame seeds
£4.50
Curry Sauce
Contains:
Cereals containing gluten
Sulphur Dioxide
£2.50
Thai Curry Sauce
Contains:
Cereals containing gluten
Sulphur Dioxide
£2.50
Sweet & Sour Sauce
Contains:
Sulphur Dioxide
£2.60
Barbecue Sauce
Contains:
Cereals containing gluten
Soya
£2.40
Satay Sauce
Contains:
Crustaceans
Peanuts
Sesame Seeds
Soya
£2.60
Chips with Curry Sauce
Contains:
Cereals containing gluten
Sulphur Dioxide
£3.80
Hoi Sin Sauce
Contains:
Cereals containing gluten
Fish
Sesame seeds
Soya
£2.60
Chips with Sweet & Sour Sauce
Contains:
Fish
Sulphur Dioxide
£3.80
Chips with Barbecue Sauce
Containing:
Cereals containing gluten 
Sesame seeds
Soya
£3.80
Crispy Prawn Crackers
Contains:
Crustaceans
£2.50
King Prawn in Satay Sauce Regular
Contains:
Cereals containing gluten
Peanuts
Sesame seeds
Soya
Sulphur dioxide
Crustaceans
Eggs
£7.50
King Prawn in Satay Sauce Large
Contains:
Cereals containing gluten
Peanuts
Sesame seeds
Soya
Sulphur dioxide
Crustaceans
Eggs
£9.90
Chicken in Satay Sauce Regular
Contains:
Cereals containing gluten
Peanuts
Sesame seeds
Soya
Sulphur dioxide
£6.80
Chicken in Satay Sauce Large
Contains:
Cereals containing gluten
Peanuts
Sesame seeds
Soya
Sulphur dioxide
£9.20
Beef in Satay Sauce Regular
Contains:
Cereals containing gluten
Peanuts
Sesame seeds
Soya
Sulphur dioxide
Eggs
£6.90
Beef in Satay Sauce Large
Contains:
Cereals containing gluten
Peanuts
Sesame seeds
Soya
Sulphur dioxide
Eggs
£9.30
Roast Pork in Satay Sauce Regular
Contains:
Cereals containing gluten
Peanuts
Sesame seeds
Soya
Sulphur dioxide
£6.70
Roast Pork in Satay Sauce Large
Contains:
Cereals containing gluten
Peanuts
Sesame seeds
Soya
Sulphur dioxide
£9.10
Roast Duck in Satay Sauce Regular
Contains:
Cereals containing gluten
Peanuts
Sesame seeds
Soya
Sulphur dioxide
£7.50
Roast Duck in Satay Sauce Large
Contains:
Cereals containing gluten
Peanuts
Sesame seeds
Soya
Sulphur dioxide
£9.90
Squid in Satay Sauce Regular
Contains:
Cereals containing gluten
Peanuts
Sesame seeds
Soya
Sulphur dioxide
Molluscs
£7.30
Squid in Satay Sauce Large
Contains:
Cereals containing gluten
Peanuts
Sesame seeds
Soya
Sulphur dioxide
Molluscs
£9.70
Mixed Vegetables in Satay Sauce Regular
Contains:
Cereals containing gluten
Peanuts
Sesame seeds
Soya
Sulphur dioxide
Vegetarian
Celery
£5.90
Mixed Vegetables in Satay Sauce Large
Contains:
Cereals containing gluten
Peanuts
Sesame seeds
Soya
Sulphur dioxide
Vegetarian
Celery
£8.30
Set Meal A1 For 1 Person
(Contains: Cereals containing gluten, crustaceans, eggs, soya, sulphur dioxide)
Crispy pancake roll (Contains: crustaceans)
Chicken curry
Egg fried rice (Contains:eggs)
Crispy prawn crackers (Contains:crustaceans)
£13.90
Set Meal A2 For 1 Person
(Contains: Cereals containing gluten, eggs, peanuts, sesame seeds, soya, sulphur dioxide)
Sweet & sour chicken in batter
Beef with green pepper in black bean sauce
Egg fried rice (eggs)
Crispy prawn crackers (crustaceans)
£17.50
Set Meal A3 For 1 Person
(Contains: Cereals containing gluten, crustaceans, eggs, sesame seeds, soya, sulphur dioxide)
Barbecued spare ribs in BBQ sauce
Chicken chop suey
Egg fried rice (Contains:eggs)
Crispy prawn crackers (Contains:crustaceans)
£16.20
Special Set Meal A For 2
(Contains: Cereals containing gluten, crustaceans, eggs, sesame seeds, soya)
Sesame king prawn on toast (Contains:crustaceans, eggs, sesame seeds)
Sliced beef with English mushroom
King prawn chop suey (Contains:crustaceans)
Special chow mein (Contains:crustaceans)
Egg fried rice (Contains:eggs)
Crispy prawn crackers (Contains:crustaceans)
£27.60
Special Set Meal A For 3
(Contains: Cereals containing gluten, crustaceans, eggs, sesame seeds, soya)
Sesame king prawn on toast (Contains:crustaceans, eggs, sesame seeds)
Sliced beef with English mushroom
King prawn chop suey (Contains:crustaceans)
Special chow mein (Contains:crustaceans)
Egg fried rice (Contains:eggs)
Crispy prawn crackers (Contains:crustaceans)
£42.20
Special Set Meal A For 4
(Contains: Cereals containing gluten, crustaceans, eggs, sesame seeds, soya)
Sesame king prawn on toast (Contains:crustaceans, eggs, sesame seeds)
Sliced beef with English mushroom
King prawn chop suey (Contains:crustaceans)
Special chow mein (Contains:crustaceans)
Egg fried rice (Contains:eggs)
Crispy prawn crackers (Contains:crustaceans)
£56.20
Special Set Meal B For 2
Vegetarian spring rolls
Barbecued spare ribs in BBQ sauce
Chicken with English mushroom
Sweet & sour pork balls
Kung po king prawn (hot & spicy, crustaceans, peanuts)
Special fried rice (crustaceans)
Crispy prawn crackers (crustaceans)
(Contains: Cereals containing gluten, crustaceans, egg, sesame seeds, soya and sulphur dioxide)
£30.50
Special Set Meal B For 3
Vegetarian spring rolls
Barbecued spare ribs in BBQ sauce
Chicken with English mushroom
Sweet & sour pork balls
Kung po king prawn (hot & spicy, crustaceans, peanuts)
Special fried rice (crustaceans)
Crispy prawn crackers (crustaceans)
(Contains: Cereals containing gluten, crustaceans, egg, sesame seeds, soya and sulphur dioxide)
£47.00
Special Set Meal B For 4
Vegetarian spring rolls
Barbecued spare ribs in BBQ sauce
Chicken with English mushroom
Sweet & sour pork balls
Kung po king prawn (hot & spicy, crustaceans, peanuts)
Special fried rice (crustaceans)
Crispy prawn crackers (crustaceans)
(Contains: Cereals containing gluten, crustaceans, egg, sesame seeds, soya and sulphur dioxide)
£62.80
Special Set Meal C For 2
(Contains:Cereals containing gluten, eggs, molluscs, sesame seeds, soya, sulphur dioxide)
Curry samosas (hot & spicy)
Crispy shredded beef in chilli sauce (hot & spicy)
Sweet & sour chicken Hong Kong style
Roast pork with bean sprouts
King prawn with green pepper & black bean sauce (Contains:crustaceans)
Special fried rice (Contains:crustaceans)
Crispy prawn crackers (Contains:crustaceans)
£34.60
Special Set Meal C For 3
(Contains:Cereals containing gluten, eggs, molluscs, sesame seeds, soya, sulphur dioxide)
Curry samosas (hot & spicy)
Crispy shredded beef in chilli sauce (hot & spicy)
Sweet & sour chicken Hong Kong style
Roast pork with bean sprouts
King prawn with green pepper & black bean sauce (Contains:crustaceans)
Special fried rice (Contains:crustaceans)
Crispy prawn crackers (Contains:crustaceans)
£49.40
Special Set Meal C For 4
(Contains:Cereals containing gluten, eggs, molluscs, sesame seeds, soya, sulphur dioxide)
Curry samosas (hot & spicy)
Crispy shredded beef in chilli sauce (hot & spicy)
Sweet & sour chicken Hong Kong style
Roast pork with bean sprouts
King prawn with green pepper & black bean sauce (Contains:crustaceans)
Special fried rice (Contains:crustaceans)
Crispy prawn crackers (Contains:crustaceans)
£66.00
Special Set Meal D For 2
(Contains: Cereals containing gluten, eggs, molluscs, sesame seeds, soya)
Crispy pancake roll (Contains:crustaceans)
Barbecued spare ribs in BBQ sauce
Sweet & sour sauce chicken in batter slices
Beef with green pepper in black bean sauce
Roast pork with mixed vegetables (Contains:celery)
Special fried rice (Contains:crustaceans)
Crispy prawn crackers (Contains:crustaceans)
£30.50
Special Set Meal D For 3
(Contains: Cereals containing gluten, eggs, molluscs, sesame seeds, soya)
Crispy pancake roll (Contains:crustaceans)
Barbecued spare ribs in BBQ sauce
Sweet & sour sauce chicken in batter slices
Beef with green pepper in black bean sauce
Roast pork with mixed vegetables (Contains:celery)
Special fried rice (Contains:crustaceans)
Crispy prawn crackers (Contains:crustaceans)
£46.80
Special Set Meal D For 4
(Contains: Cereals containing gluten, eggs, molluscs, sesame seeds, soya)
Crispy pancake roll (Contains:crustaceans)
Barbecued spare ribs in BBQ sauce
Sweet & sour sauce chicken in batter slices
Beef with green pepper in black bean sauce
Roast pork with mixed vegetables (Contains:celery)
Special fried rice (Contains:crustaceans)
Crispy prawn crackers (Contains:crustaceans)
£62.80
Special Set Meal E For 2
(Contains:Cereals containing gluten, eggs, molluscs, sesame seeds, soya, sulphur dioxide)
Barbecued fried chicken wings
Fried spare ribs peking style
Chicken with cashew nuts (Contains:nuts)
Sweet & sour pork Hong Kong style
Beef curry (hot & spicy)
Special fried rice (Contains:crustaceans)
Crispy prawn crackers (Contains:crustaceans)
£32.60
Special Set Meal E For 3
(Contains:Cereals containing gluten, eggs, molluscs, sesame seeds, soya, sulphur dioxide)
Barbecued fried chicken wings
Fried spare ribs peking style
Chicken with cashew nuts (Contains:nuts)
Sweet & sour pork Hong Kong style
Beef curry (hot & spicy)
Special fried rice (Contains:crustaceans)
Crispy prawn crackers (Contains:crustaceans)
£49.40
Special Set Meal E For 4
(Contains:Cereals containing gluten, eggs, molluscs, sesame seeds, soya, sulphur dioxide)
Barbecued fried chicken wings
Fried spare ribs peking style
Chicken with cashew nuts (Contains:nuts)
Sweet & sour pork Hong Kong style
Beef curry (hot & spicy)
Special fried rice (Contains:crustaceans)
Crispy prawn crackers (Contains:crustaceans)
£65.80
Thai Special Curry Regular
King prawn, chicken, beef & roast pork
Hot & Spicy
Contains:
Cereals containing gluten
Eggs
Sesame seeds
Soya
Sulphur dioxide
Crustaceans
£7.30
Thai Special Curry Large
King prawn, chicken, beef & roast pork
Hot & Spicy
Contains:
Cereals containing gluten
Eggs
Sesame seeds
Soya
Sulphur dioxide
Crustaceans
£9.70
Thai King Prawn Curry Regular
Hot & Spicy
Contains:
Cereals containing gluten
Eggs
Sesame seeds
Soya
Sulphur dioxide
Crustaceans
£7.50
Thai King Prawn Curry Large
Hot & Spicy
Contains:
Cereals containing gluten
Eggs
Sesame seeds
Soya
Sulphur dioxide
Crustaceans
£9.90
Thai Chicken Curry Regular
Hot & Spicy
Contains:
Cereals containing gluten
Eggs
Sesame seeds
Soya
Sulphur dioxide
£6.70
Thai Chicken Curry Large
Hot & Spicy
Contains:
Cereals containing gluten
Eggs
Sesame seeds
Soya
Sulphur dioxide
£9.10
Thai Beef Curry Regular
Hot & Spicy
Contains:
Cereals containing gluten
Eggs
Sesame seeds
Soya
Sulphur dioxide
£6.80
Thai Beef Curry Large
Hot & Spicy
Contains:
Cereals containing gluten
Eggs
Sesame seeds
Soya
Sulphur dioxide
£9.20
Thai Shrimp Curry Regular
Hot & Spicy
Contains:
Cereals containing gluten
Eggs
Sesame seeds
Soya
Sulphur dioxide
Crustaceans
£6.70
Thai Shrimp Curry Large
Hot & Spicy
Contains:
Cereals containing gluten
Eggs
Sesame seeds
Soya
Sulphur dioxide
Crustaceans
£9.10
Thai Roast Duck Curry Regular
Hot & Spicy
Contains:
Cereals containing gluten
Eggs
Sesame seeds
Soya
Sulphur dioxide
£7.50
Thai Roast Duck Curry Large
Hot & Spicy
Contains:
Cereals containing gluten
Eggs
Sesame seeds
Soya
Sulphur dioxide
£9.70
Thai Mixed Vegetable Curry Regular
Hot & Spic
Contains:
Cereals containing gluten
Eggs
Sesame seeds
Soya
Sulphur dioxide
Vegetarian
Celery
£6.00
Thai Mixed Vegetable Curry Large
Hot & Spic
Contains:
Cereals containing gluten
Eggs
Sesame seeds
Soya
Sulphur dioxide
Vegetarian
Celery
£8.40
Thai Mushroom Curry Regular
Hot & Spicy
Contains:
Cereals containing gluten
Eggs
Sesame seeds
Soya
Sulphur dioxide
Vegetarian
£6.00
Thai Mushroom Curry Large
Hot & Spicy
Contains:
Cereals containing gluten
Eggs
Sesame seeds
Soya
Sulphur dioxide
Vegetarian
£8.40
Thai Roast Pork Curry Regular
Hot & Spicy
Contains:
Cereals containing gluten
Eggs
Sesame seeds
Soya
Sulphur dioxide
£6.50
Thai Roast Pork Curry Large
Hot & Spicy
Contains:
Cereals containing gluten
Eggs
Sesame seeds
Soya
Sulphur dioxide
£9.00
Special Mixed Hors D'oeuveres (Serves 2 Persons)
Sesame king prawn on toast, barbecued spare ribs, crispy seaweed, curry samosas & mini spring rolls
Contains:
Cereals containing gluten
Crustaceans
Eggs
Fish
Soya
Sulphur dioxide
£16.00
Barbecued Spare Ribs (Dry)
Contains:
Cereals containing gluten
Fish
Sesame seeds
Soya
£8.50
Barbecued Spare Ribs in Barbecue Sauce
Contains:
Cereals containing gluten
Fish
Sesame seeds
Soya
£7.50
Szechuan Spare Ribs
Hot & spicy
Contains:
Cereals containing gluten
Fish
Sesame seeds
Soya
£7.50
Fried Spare Ribs in Peking Style
Contains:
Fish
Sesame seeds
Soya
Sulphur dioxide
£7.50
Fried Spare Ribs in Black Bean Sauce
Contains:
Cereals containing gluten
Fish
Sesame seeds
Soya
£7.50
Fried Spare Ribs in Satay Sauce
Contains:
Cereals containing gluten
Fish
Sesame seeds
Soya
Peanuts
£7.50
Fried Spare Ribs in Salt & Chilli
Hot & spicy
Contains:
Cereals containing gluten
Fish
Sesame seeds
Soya
£7.50
Honey Spare Ribs
Contains:
Cereals containing gluten
Fish
Sesame seeds
Soya
£7.50
King Prawn in Spicy Salt & Chilli
Hot & spicy
Contains:
Cereals containing gluten
Crustaceans
Eggs
Molluscs
Sesame seeds
£7.50
Squid in Spicy Salt & Chilli
Hot & spicy
Contains:
Eggs
Molluscs
Mustard
Sesame seeds
£7.50
Chicken in Spicy Salt & Chilli
Hot & spicy
Contains:
Cereals containing gluten
Eggs
Sesame seeds
Soya
£6.80
Pancake Roll (Large)
Contains:
Cereals containing gluten
Crustaceans
£2.70
Mini Vegetarian Spring Rolls (9)
Vegetarian
Contains:
Cereals containing gluten
£3.70
Mini Roast Pork Spring Rolls (8)
Contains:
Cereals containing gluten
Fish
£4.20
Curry Samosas (8)
Vegetarian
Hot & spicy
Contains:
Cereals containing gluten
Sulphur dioxide
£3.70
Crispy Seaweed
Vegetarian
Contains:
Fish
£5.00
Sesame King Prawn on Toast
Contains:
Cereals containing gluten
Crustaceans
Eggs
Sesame seeds
£6.20
Sesame Chicken on Toast
Contains:
Cereals containing gluten
Eggs
Sesame seeds
£6.00
Prawn Cocktail
Contains:
Crustaceans
£4.60
Deep Fried Crab Claws in Bread Crumbs (4)
Contains:
Cereals containing gluten
Crustaceans
£5.30
Deep Fried King Prawn in Bread Crumbs
Contains:
Cereals containing gluten
Crustaceans
Eggs
Sesame seeds
£7.70
Smoked Chicken
Contains:
Cereals containing gluten
Eggs
Sesame seeds
£6.80
Chicken Satay on Skewers
Contains:
Cereals containing gluten
Peanuts
Sesame seeds
Soya
Sulphur dioxide
£7.00
Barbecued Chicken Wings (Dry)
£6.00
Fried Chicken Wings in Spicy Salt & Chilli
Hot & spicy
Contains:
Crustaceans
Sesame seeds
£6.00
Fried Chicken Wings in Barbecue Sauce
Contains:
Cereals containing gluten
Fish
Soya
Sulphur dioxide
£6.00
Fried Chicken Wings in Sweet & Sour Sauce
Contains:
Fish
Sulphur dioxide
£6.00
Fried Chicken Wings Peking Style
Contains:
Cereals containing gluten
Fish
Sulphur dioxide
£6.00
Fried Chicken Wings in Mongolian Sauce
Hot & spicy
£6.00
Crispy Fried Won Ton
With sweet & sour dip
Contains:
Cereals containing gluten
Sesame seeds
£4.80
Crispy Dumpling (with Dip)
Contains:
Cereals containing gluten
Sesame seeds
£5.80
Crispy Aromatic Duck Quarter
Served with fresh cucumber, spring onions, hoi sin sauce & pancakes
Contains:
Cereals containing gluten
Fish
Soya
£12.00
Crispy Aromatic Duck Half
Served with fresh cucumber, spring onions, hoi sin sauce & pancakes
Contains:
Cereals containing gluten
Fish
Soya
£22.00
Crispy Aromatic Duck Whole
Served with fresh cucumber, spring onions, hoi sin sauce & pancakes
Contains:
Cereals containing gluten
Fish
Soya
£42.00
Crispy Aromatic Lamb
Served with fresh cucumber, spring onions, hoi sin sauce & pancakes
Contains:
Cereals containing gluten
Fish
Soya
£12.00
House Special Fried Rice
Chicken, king prawn, beef, pork & mixed vegetables in sauce
Contains:
Eggs
Soya
Cereals containing gluten
Crustaceans
Sesame seeds
£8.50
Roast Duck with Boiled Rice
Contains:
Eggs
Soya
£7.10
Roast Duck & Pork with Boiled Rice
Contains:
Eggs
Soya
Cereals containing gluten
Sesame seeds
£7.10
Roast Duck & Chicken with Boiled Rice
Contains:
Eggs
Soya
£7.10
Roast Pork with Boiled Rice
Contains:
Eggs
Soya
Cereals containing gluten
Sesame seeds
£6.50
Roast Pork & Chicken with Boiled Rice
Contains:
Eggs
Soya
Cereals containing gluten
Sesame seeds
£6.50
Roast Chicken with Peas, Onion & Boiled Rice
Contains:
Eggs
Soya
Cereals containing gluten
Sesame seeds
£6.50
Minced Beef with Peas, Onion & Boiled Rice
Contains:
Eggs
Soya
Cereals containing gluten
Sesame seeds
£6.50
Fried Rice with Pineapple & Cashew Nuts
Vegetarian
Contains:
Eggs
Soya
Nuts
£6.50
Special Fried Rice Regular
Contains:
Eggs
Soya
Cereals containing gluten
Crustaceans
Sesame seeds
£5.70
Special Fried Rice Large
Contains:
Eggs
Soya
Cereals containing gluten
Crustaceans
Sesame seeds
£6.70
King Prawn Fried Rice Regular
Contains:
Eggs
Soya
Crustaceans
Sesame seeds
£6.90
King Prawn Fried Rice Large
Contains:
Eggs
Soya
Crustaceans
Sesame seeds
£8.10
Shrimp Fried Rice Regular
Contains:
Eggs
Soya
Crustaceans
£5.80
Shrimp Fried Rice Large
Contains:
Eggs
Soya
Crustaceans
£6.80
Beef Fried Rice Regular
Contains:
Eggs
Soya
Sesame seeds
£5.80
Beef Fried Rice Large
Contains:
Eggs
Soya
Sesame seeds
£6.80
Roast Pork Fried Rice Regular
Contains:
Eggs
Soya
Cereals containing gluten
Sesame seeds
£5.80
Roast Pork Fried Rice Large
Contains:
Eggs
Soya
Cereals containing gluten
Sesame seeds
£6.80
Shredded Chicken Fried Rice Regular
Contains:
Eggs
Soya
£5.80
Shredded Chicken Fried Rice Large
Contains:
Eggs
Soya
£6.80
Singapore Fried Rice Regular
Hot & spicy
Contains:
Eggs
Soya
Cereals containing gluten
Crustaceans
Peanuts
Sulphur dioxide
£5.90
Singapore Fried Rice Large
Hot & spicy
Contains:
Eggs
Soya
Cereals containing gluten
Crustaceans
Peanuts
Sulphur dioxide
£7.10
Mushroom Fried Rice Regular
Vegetarian
Contains:
Eggs
Soya
£5.40
Mushroom Fried Rice Large
Vegetarian
Contains:
Eggs
Soya
£6.50
Egg Fried Rice Regular
Vegetarian
Contains:
Eggs
Soya
£4.60
Egg Fried Rice Large
Vegetarian
Contains:
Eggs
Soya
£5.90
Plain Boiled Rice Regular
Vegetarian
Contains:
Eggs
Soya
£3.80
Plain Boiled Rice Large
Vegetarian
Contains:
Eggs
Soya
£5.00
Mixed Vegetable Fried Rice Regular
Vegetarian
Contains:
Eggs
Soya
Celery
£5.10
Mixed Vegetable Fried Rice Large
Vegetarian
Contains:
Eggs
Soya
Celery
£6.30
Crab Meat Stick Fried Rice Regular
Contains:
Eggs
Soya
Crustaceans
£5.60
Crab Meat Stick Fried Rice Large
Contains:
Eggs
Soya
Crustaceans
£6.80
Thai Special Fried Rice Regular
Contains:
Eggs
Soya
Crustaceans
£5.70
Thai Special Fried Rice Large
Contains:
Eggs
Soya
Crustaceans
£6.90
Shredded Roast Duck Fried Rice Regular
Contains:
Eggs
Soya
£5.90
Shredded Roast Duck Fried Rice Large
Contains:
Eggs
Soya
£7.10
House Special Chow Mein (in Sauce)
Contains:
Cereals containing gluten
Eggs
Sesame seeds
Soya
Crustaceans
£8.50
Chicken & Mushroom Chow Mein Regular
Contains:
Cereals containing gluten
Eggs
Sesame seeds
Soya
£6.10
Chicken & Mushroom Chow Mein Large
Contains:
Cereals containing gluten
Eggs
Sesame seeds
Soya
£7.30
Special Chow Mein Regular
Contains:
Cereals containing gluten
Eggs
Sesame seeds
Soya
Crustaceans
£6.10
Special Chow Mein Large
Contains:
Cereals containing gluten
Eggs
Sesame seeds
Soya
Crustaceans
£7.30
King Prawn Chow Mein Regular
Contains:
Cereals containing gluten
Eggs
Sesame seeds
Soya
Crustaceans
£7.20
King Prawn Chow Mein Large
Contains:
Cereals containing gluten
Eggs
Sesame seeds
Soya
Crustaceans
£8.40
Shrimp Chow Mein Regular
Contains:
Cereals containing gluten
Eggs
Sesame seeds
Soya
Crustaceans
£6.10
Shrimp Chow Mein Large
Contains:
Cereals containing gluten
Eggs
Sesame seeds
Soya
Crustaceans
£7.30
Beef Chow Mein Regular
Contains:
Cereals containing gluten
Eggs
Sesame seeds
Soya
£6.10
Beef Chow Mein Large
Contains:
Cereals containing gluten
Eggs
Sesame seeds
Soya
£7.30
Roast Pork Chow Mein Regular
Contains:
Cereals containing gluten
Eggs
Sesame seeds
Soya
£6.10
Roast Pork Chow Mein Large
Contains:
Cereals containing gluten
Eggs
Sesame seeds
Soya
£7.30
Shredded Chicken Chow Mein Regular
Contains:
Cereals containing gluten
Eggs
Sesame seeds
Soya
£6.10
Shredded Chicken Chow Mein Large
Contains:
Cereals containing gluten
Eggs
Sesame seeds
Soya
£7.30
Shredded Roast Duck Chow Mein Regular
Contains:
Cereals containing gluten
Eggs
Sesame seeds
Soya
£6.20
Shredded Roast Duck Chow Mein Large
Contains:
Cereals containing gluten
Eggs
Sesame seeds
Soya
£7.40
Singapore Chow Mein Regular
Hot & spicy
Contains:
Cereals containing gluten
Eggs
Sesame seeds
Soya
Crustaceans
Peanuts
Sulphur dioxide
£6.20
Singapore Chow Mein Large
Hot & spicy
Contains:
Cereals containing gluten
Eggs
Sesame seeds
Soya
Crustaceans
Peanuts
Sulphur dioxide
£7.40
Thai Special Chow Mein Regular
Hot & spicy
Contains:
Cereals containing gluten
Eggs
Sesame seeds
Soya
Crustaceans
£6.20
Thai Special Chow Mein Large
Hot & spicy
Contains:
Cereals containing gluten
Eggs
Sesame seeds
Soya
Crustaceans
£7.40
Crab Meat Stick Chow Mein Regular
Contains:
Cereals containing gluten
Eggs
Sesame seeds
Soya
Crustaceans
£6.10
Crab Meat Stick Chow Mein Large
Contains:
Cereals containing gluten
Eggs
Sesame seeds
Soya
Crustaceans
£7.30
Mushroom Chow Mein Regular
Vegetarian
Contains:
Cereals containing gluten
Eggs
Sesame seeds
Soya
£5.70
Mushroom Chow Mein Large
Vegetarian
Contains:
Cereals containing gluten
Eggs
Sesame seeds
Soya
£7.20
Mixed Vegetable Chow Mein Regular
Vegetarian
Contains:
Cereals containing gluten
Eggs
Sesame seeds
Soya
Celery
£5.70
Mixed Vegetable Chow Mein Large
Vegetarian
Contains:
Cereals containing gluten
Eggs
Sesame seeds
Soya
Celery
£7.20
Plain Chow Mein Regular
Vegetarian
Contains:
Cereals containing gluten
Eggs
Sesame seeds
Soya
£5.50
Plain Chow Mein Large
Vegetarian
Contains:
Cereals containing gluten
Eggs
Sesame seeds
Soya
£6.70
Plain Chow Mein with Curry Sauce Regular
Vegetarian
Contains:
Cereals containing gluten
Eggs
Sesame seeds
Soya
£5.70
Plain Chow Mein with Curry Sauce Large
Vegetarian
Contains:
Cereals containing gluten
Eggs
Sesame seeds
Soya
£6.90
Vegetarian Singapore Chow Mein Regular
Vegetarian
Hot & spicy
Contains:
Cereals containing gluten
Eggs
Sesame seeds
Soya
Celery
Crustaceans
Peanuts
£5.70
Vegetarian Singapore Chow Mein Large
Vegetarian
Hot & spicy
Contains:
Cereals containing gluten
Eggs
Sesame seeds
Soya
Celery
Crustaceans
Peanuts
£6.90
Thai Mixed Vegetable Chow Mein Regular
Vegetarian
Hot & spicy
Contains:
Cereals containing gluten
Eggs
Sesame seeds
Soya
Celery
£5.70
Thai Mixed Vegetable Chow Mein Large
Vegetarian
Hot & spicy
Contains:
Cereals containing gluten
Eggs
Sesame seeds
Soya
Celery
£6.90
House Special Crispy Noodles
King prawn, chicken, beef & pork with mixed vegetables
Contains:
Cereals containing gluten
Eggs
Sesame seeds
Soya
Molluscs
Crustaceans
£8.50
King Prawn Crispy Noodles
Contains:
Cereals containing gluten
Eggs
Sesame seeds
Soya
Molluscs
Crustaceans
£8.50
Chicken Crispy Noodles
Contains:
Cereals containing gluten
Eggs
Sesame seeds
Soya
Molluscs
£7.20
Beef Crispy Noodles
Contains:
Cereals containing gluten
Eggs
Sesame seeds
Soya
Molluscs
£7.20
Roast Pork Crispy Noodles
Contains:
Cereals containing gluten
Eggs
Sesame seeds
Soya
Molluscs
£7.20
Roast Duck Crispy Noodles
Contains:
Cereals containing gluten
Eggs
Sesame seeds
Soya
Molluscs
£7.20
Shrimp Crispy Noodles
Contains:
Cereals containing gluten
Eggs
Sesame seeds
Soya
Molluscs
Crustaceans
£7.20
Mixed Vegetables Crispy Noodles
Vegetarian
Contains:
Cereals containing gluten
Eggs
Sesame seeds
Soya
Molluscs
Celery
£7.10
Singapore Rice Noodles Regular
Hot & spicy
Contains:
Eggs
Sesame seeds
Soya
Cereals containing gluten
Crustaceans
Peanuts
Sulphur dioxide
£6.40
Singapore Rice Noodles Large
Hot & spicy
Contains:
Eggs
Sesame seeds
Soya
Cereals containing gluten
Crustaceans
Peanuts
Sulphur dioxide
£7.50
Thai Special Rice Noodles Regular
Hot & spicy
Contains:
Eggs
Sesame seeds
Soya
Cereals containing gluten
Crustaceans
£6.40
Thai Special Rice Noodles Large
Hot & spicy
Contains:
Eggs
Sesame seeds
Soya
Cereals containing gluten
Crustaceans
£7.50
Vegetarian Singapore Rice Noodles Regular
Vegetarian
Hot & spicy
Contains:
Eggs
Sesame seeds
Soya
Celery
Crustaceans
Peanuts
£5.70
Vegetarian Singapore Rice Noodles Large
Vegetarian
Hot & spicy
Contains:
Eggs
Sesame seeds
Soya
Celery
Crustaceans
Peanuts
£6.90
Special Rice Noodles Regular
Contains:
Eggs
Sesame seeds
Soya
Cereals containing gluten
Crustaceans
£6.40
Special Rice Noodles Large
Contains:
Eggs
Sesame seeds
Soya
Cereals containing gluten
Crustaceans
£7.50
Chicken Rice Noodles Regular
Contains:
Eggs
Sesame seeds
Soya
£6.10
Chicken Rice Noodles Large
Contains:
Eggs
Sesame seeds
Soya
£7.30
Beef Rice Noodles Regular
Contains:
Eggs
Sesame seeds
Soya
£6.10
Beef Rice Noodles Large
Contains:
Eggs
Sesame seeds
Soya
£7.30
Shrimp Rice Noodles Regular
Contains:
Eggs
Sesame seeds
Soya
Crustaceans
£6.10
Shrimp Rice Noodles Large
Contains:
Eggs
Sesame seeds
Soya
Crustaceans
£7.30
King Prawn Rice Noodles Regular
Contains:
Eggs
Sesame seeds
Soya
Crustaceans
£7.00
King Prawn Rice Noodles Large
Contains:
Eggs
Sesame seeds
Soya
Crustaceans
£8.20
Roast Pork Rice Noodles Regular
Contains:
Eggs
Sesame seeds
Soya
Cereals containing gluten
£6.10
Roast Pork Rice Noodles Large
Contains:
Eggs
Sesame seeds
Soya
Cereals containing gluten
£7.30
Mushroom Rice Noodles Regular
Vegetarian
Contains:
Eggs
Sesame seeds
Soya
£5.80
Mushroom Rice Noodles Large
Vegetarian
Contains:
Eggs
Sesame seeds
Soya
£7.00
Mixed Vegetable Rice Noodles Regular
Vegetarian
Contains:
Eggs
Sesame seeds
Soya
Celery
£5.80
Mixed Vegetable Rice Noodles Large
Vegetarian
Contains:
Eggs
Sesame seeds
Soya
Celery
£7.00
Shredded Roast Duck Rice Noodles Regular
Contains:
Eggs
Sesame seeds
Soya
£6.40
Shredded Roast Duck Rice Noodles Large
Contains:
Eggs
Sesame seeds
Soya
£7.50
Thai Mixed Vegetables Rice Noodles Regular
Vegetarian
Hot & spicy
Contains:
Eggs
Sesame seeds
Soya
Celery
£5.80
Thai Mixed Vegetables Rice Noodles Large
Vegetarian
Hot & spicy
Contains:
Eggs
Sesame seeds
Soya
Celery
£7.00
Plain Rice Noodles Regular
Vegetarian
Contains:
Eggs
Sesame seeds
Soya
£5.50
Plain Rice Noodles Large
Vegetarian
Contains:
Eggs
Sesame seeds
Soya
£6.60
Crab Meat Stick Rice Noodles Regular
Contains:
Eggs
Sesame seeds
Soya
Crustaceans
£6.10
Crab Meat Stick Rice Noodles Large
Contains:
Eggs
Sesame seeds
Soya
Crustaceans
£7.30
Chicken with English Mushroom Regular
Contains:
Cereals containing gluten
Sesame seeds
Soya
Molluscs
£6.80
Chicken with English Mushroom Large
Contains:
Cereals containing gluten
Sesame seeds
Soya
Molluscs
£9.20
Chicken with Chinese Mushroom & Bamboo Shoots Regular
Contains:
Cereals containing gluten
Sesame seeds
Soya
Molluscs
£6.80
Chicken with Chinese Mushroom & Bamboo Shoots Large
Contains:
Cereals containing gluten
Sesame seeds
Soya
Molluscs
£9.20
Chicken with Straw Mushroom & Bamboo Shoots Regular
Contains:
Cereals containing gluten
Sesame seeds
Soya
Molluscs
£6.80
Chicken with Straw Mushroom & Bamboo Shoots Large
Contains:
Cereals containing gluten
Sesame seeds
Soya
Molluscs
£9.20
Chicken with Baby Corn & Bamboo Shoots Regular
Contains:
Cereals containing gluten
Sesame seeds
Soya
Molluscs
£6.80
Chicken with Baby Corn & Bamboo Shoots Large
Contains:
Cereals containing gluten
Sesame seeds
Soya
Molluscs
£9.20
Chicken with Chinese Leaves Regular
Contains:
Cereals containing gluten
Sesame seeds
Soya
Molluscs
£6.80
Chicken with Chinese Leaves Large
Contains:
Cereals containing gluten
Sesame seeds
Soya
Molluscs
£9.20
Chicken with Mixed Vegetables Regular
Contains:
Cereals containing gluten
Sesame seeds
Soya
Molluscs
Celery
£6.80
Chicken with Mixed Vegetables Large
Contains:
Cereals containing gluten
Sesame seeds
Soya
Molluscs
Celery
£9.20
Chicken with Cashew Nuts Regular
Contains:
Cereals containing gluten
Sesame seeds
Soya
Molluscs
Nuts
£6.90
Chicken with Cashew Nuts Large
Contains:
Cereals containing gluten
Sesame seeds
Soya
Molluscs
Nuts
£9.30
Chicken with Green Pepper & Black Bean Sauce Regular
Contains:
Cereals containing gluten
Sesame seeds
Soya
Molluscs
£6.80
Chicken with Green Pepper & Black Bean Sauce Large
Contains:
Cereals containing gluten
Sesame seeds
Soya
Molluscs
£9.20
Chicken with Oyster Sauce Regular
Contains:
Cereals containing gluten
Sesame seeds
Soya
Molluscs
£6.80
Chicken with Oyster Sauce Large
Contains:
Cereals containing gluten
Sesame seeds
Soya
Molluscs
£9.20
Chicken with Pineapple Regular
Contains:
Cereals containing gluten
Sesame seeds
Soya
Molluscs
£6.80
Chicken with Pineapple Large
Contains:
Cereals containing gluten
Sesame seeds
Soya
Molluscs
£9.20
Chicken with Black Pepper Sauce Regular
Hot & spicy
Contains:
Cereals containing gluten
Sesame seeds
Soya
Molluscs
£6.80
Chicken with Black Pepper Sauce Large
Hot & spicy
Contains:
Cereals containing gluten
Sesame seeds
Soya
Molluscs
£9.20
Roast Chicken Chinese Style Regular
Contains:
Cereals containing gluten
Sesame seeds
Soya
Molluscs
£6.80
Roast Chicken Chinese Style Large
Contains:
Cereals containing gluten
Sesame seeds
Soya
Molluscs
£9.20
Chicken in Yellow Bean Sauce & Cashew Nuts Regular
Contains:
Cereals containing gluten
Sesame seeds
Soya
Molluscs
Nuts
£6.90
Chicken in Yellow Bean Sauce & Cashew Nuts Large
Contains:
Cereals containing gluten
Sesame seeds
Soya
Molluscs
Nuts
£9.30
Chicken with Ginger & Spring Onions Regular
Contains:
Cereals containing gluten
Sesame seeds
Soya
Molluscs
£6.80
Chicken with Ginger & Spring Onions Large
Contains:
Cereals containing gluten
Sesame seeds
Soya
Molluscs
£9.20
Chicken with Ginger & Pineapple Regular
Contains:
Cereals containing gluten
Sesame seeds
Soya
Molluscs
£6.80
Chicken with Ginger & Pineapple Large
Contains:
Cereals containing gluten
Sesame seeds
Soya
Molluscs
£9.20
Lemon Chicken Regular
Contains:
Cereals containing gluten
Sesame seeds
Soya
Molluscs
Eggs
£7.50
Lemon Chicken Large
Contains:
Cereals containing gluten
Sesame seeds
Soya
Molluscs
Eggs
£9.30
Chicken in Orange Sauce Regular
Contains:
Cereals containing gluten
Sesame seeds
Soya
Molluscs
Eggs
£7.50
Chicken in Orange Sauce Large
Contains:
Cereals containing gluten
Sesame seeds
Soya
Molluscs
Eggs
£9.80
Deep Fried Chicken in Breadcrumbs
Contains:
Cereals containing gluten
Sesame seeds
Soya
Molluscs
Eggs
£7.50
Grilled Chicken Peking Style Regular
Hot & spicy
Contains:
Cereals containing gluten
Sesame seeds
Soya
Molluscs
£6.80
Grilled Chicken Peking Style Large
Hot & spicy
Contains:
Cereals containing gluten
Sesame seeds
Soya
Molluscs
£9.20
Chicken in Garlic Sauce Regular
Contains:
Cereals containing gluten
Sesame seeds
Soya
Molluscs
£6.80
Chicken in Garlic Sauce Large
Contains:
Cereals containing gluten
Sesame seeds
Soya
Molluscs
£9.20
Crispy Shredded Chicken in Chilli Sauce Regular
Hot & spicy
Contains:
Cereals containing gluten
Sesame seeds
Soya
Molluscs
Eggs
£7.00
Crispy Shredded Chicken in Chilli Sauce Large
Hot & spicy
Contains:
Cereals containing gluten
Sesame seeds
Soya
Molluscs
Eggs
£9.50
Chicken with Broccoli in Oyster Sauce Regular
Contains:
Cereals containing gluten
Sesame seeds
Soya
Molluscs
£6.90
Chicken with Broccoli in Oyster Sauce Large
Contains:
Cereals containing gluten
Sesame seeds
Soya
Molluscs
£10.00
Crispy Shredded Beef in Chilli Sauce Regular
Hot & spicy
Contains:
Cereals containing gluten
Eggs
Sesame seeds
Soya
Molluscs
£7.40
Crispy Shredded Beef in Chilli Sauce Large
Hot & spicy
Contains:
Cereals containing gluten
Eggs
Sesame seeds
Soya
Molluscs
£9.80
Sliced Beef in Garlic Sauce Regular
Contains:
Cereals containing gluten
Eggs
Sesame seeds
Soya
Molluscs
£6.90
Sliced Beef in Garlic Sauce Large
Contains:
Cereals containing gluten
Eggs
Sesame seeds
Soya
Molluscs
£9.30
Sliced Beef with Green Pepper in Black Bean Sauce Regular
Contains:
Cereals containing gluten
Eggs
Sesame seeds
Soya
Molluscs
Peanuts
£7.00
Sliced Beef with Green Pepper in Black Bean Sauce Large
Contains:
Cereals containing gluten
Eggs
Sesame seeds
Soya
Molluscs
Peanuts
£9.40
Sliced Beef with Black Pepper Sauce Regular
Hot & spicy
Contains:
Cereals containing gluten
Eggs
Sesame seeds
Soya
Molluscs
£6.90
Sliced Beef with Black Pepper Sauce Large
Hot & spicy
Contains:
Cereals containing gluten
Eggs
Sesame seeds
Soya
Molluscs
£9.30
Sliced Beef with Tomato Regular
Contains:
Cereals containing gluten
Eggs
Sesame seeds
Soya
Molluscs
£6.90
Sliced Beef with Tomato Large
Contains:
Cereals containing gluten
Eggs
Sesame seeds
Soya
Molluscs
£9.30
Sliced Beef with Onion Regular
Contains:
Cereals containing gluten
Eggs
Sesame seeds
Soya
Molluscs
£6.90
Sliced Beef with Onion Large
Contains:
Cereals containing gluten
Eggs
Sesame seeds
Soya
Molluscs
£9.30
Sliced Beef with English Mushroom Regular
Contains:
Cereals containing gluten
Eggs
Sesame seeds
Soya
Molluscs
£6.90
Sliced Beef with English Mushroom Large
Contains:
Cereals containing gluten
Eggs
Sesame seeds
Soya
Molluscs
£9.30
Sliced Beef with Chinese Mushroom Regular
Contains:
Cereals containing gluten
Eggs
Sesame seeds
Soya
Molluscs
£7.00
Sliced Beef with Chinese Mushroom Large
Contains:
Cereals containing gluten
Eggs
Sesame seeds
Soya
Molluscs
£9.40
Sliced Beef with Bamboo Shoot & Straw Mushrooms Regular
Contains:
Cereals containing gluten
Eggs
Sesame seeds
Soya
Molluscs
£6.90
Sliced Beef with Bamboo Shoot & Straw Mushrooms Large
Contains:
Cereals containing gluten
Eggs
Sesame seeds
Soya
Molluscs
£9.30
Sliced Beef with Ginger & Spring Onions Regular
Contains:
Cereals containing gluten
Eggs
Sesame seeds
Soya
Molluscs
£6.90
Sliced Beef with Ginger & Spring Onions Large
Contains:
Cereals containing gluten
Eggs
Sesame seeds
Soya
Molluscs
£9.30
Sliced Beef in Oyster Sauce Regular
Contains:
Cereals containing gluten
Eggs
Sesame seeds
Soya
Molluscs
£6.90
Sliced Beef in Oyster Sauce Large
Contains:
Cereals containing gluten
Eggs
Sesame seeds
Soya
Molluscs
£9.30
Sliced Beef with Cashew Nuts Regular
Contains:
Cereals containing gluten
Eggs
Sesame seeds
Soya
Molluscs
Nuts
£7.00
Sliced Beef with Cashew Nuts Large
Contains:
Cereals containing gluten
Eggs
Sesame seeds
Soya
Molluscs
Nuts
£9.40
Sliced Beef with Pineapple Regular
Contains:
Cereals containing gluten
Eggs
Sesame seeds
Soya
Molluscs
£6.90
Sliced Beef with Pineapple Large
Contains:
Cereals containing gluten
Eggs
Sesame seeds
Soya
Molluscs
£9.30
Sliced Beef with Mixed Vegetables Regular
Contains:
Cereals containing gluten
Eggs
Sesame seeds
Soya
Molluscs
Celery
£6.90
Sliced Beef with Mixed Vegetables Large
Contains:
Cereals containing gluten
Eggs
Sesame seeds
Soya
Molluscs
Celery
£9.30
Sliced Beef with Chinese Leaves Regular
Contains:
Cereals containing gluten
Eggs
Sesame seeds
Soya
Molluscs
£6.90
Sliced Beef with Chinese Leaves Large
Contains:
Cereals containing gluten
Eggs
Sesame seeds
Soya
Molluscs
£9.30
Sliced Beef with Broccoli in Oyster Sauce Regular
Contains:
Cereals containing gluten
Eggs
Sesame seeds
Soya
Molluscs
£7.00
Sliced Beef with Broccoli in Oyster Sauce Large
Contains:
Cereals containing gluten
Eggs
Sesame seeds
Soya
Molluscs
£9.40
Roast Pork with Green Pepper in Black Bean Sauce Regular
Contains:
Cereals Containing Gluten
Sesame Seeds
Soya
Molluscs
Peanuts
£6.50
Roast Pork with Green Pepper in Black Bean Sauce Large
Contains:
Cereals Containing Gluten
Sesame Seeds
Soya
Molluscs
Peanuts
£9.10
Roast Pork with Black Pepper Sauce Regular
Contains:
Cereals Containing Gluten
Sesame Seeds
Soya
Molluscs
Hot & spicy
£6.50
Roast Pork with Black Pepper Sauce Large
Contains:
Cereals Containing Gluten
Sesame Seeds
Soya
Molluscs
Hot & spicy
£9.10
Roast Pork in Garlic Sauce Regular
Contains:
Cereals Containing Gluten
Sesame Seeds
Soya
Molluscs
£6.50
Roast Pork in Garlic Sauce Large
Contains:
Cereals Containing Gluten
Sesame Seeds
Soya
Molluscs
£9.10
Roast Pork with English Mushrooms Regular
Contains:
Cereals Containing Gluten
Sesame Seeds
Soya
Molluscs
£6.50
Roast Pork with English Mushrooms Large
Contains:
Cereals Containing Gluten
Sesame Seeds
Soya
Molluscs
£9.10
Roast Pork with Mixed Vegetables Regular
Contains:
Cereals Containing Gluten
Sesame Seeds
Soya
Molluscs
£6.50
Roast Pork with Mixed Vegetables Large
Contains:
Cereals Containing Gluten
Sesame Seeds
Soya
Molluscs
£9.10
Roast Pork with Onion Regular
Contains:
Cereals Containing Gluten
Sesame Seeds
Soya
Molluscs
£6.50
Roast Pork with Onion Large
Contains:
Cereals Containing Gluten
Sesame Seeds
Soya
Molluscs
£9.10
Roast Pork with Ginger & Spring Onions Regular
Contains:
Cereals Containing Gluten
Sesame Seeds
Soya
Molluscs
£6.50
Roast Pork with Ginger & Spring Onions Large
Contains:
Cereals Containing Gluten
Sesame Seeds
Soya
Molluscs
£9.10
Roast Pork with Cashew Nuts in Yellow Bean Sauce Regular
Contains:
Cereals Containing Gluten
Sesame Seeds
Soya
Molluscs
Nuts
£6.60
Roast Pork with Cashew Nuts in Yellow Bean Sauce Large
Contains:
Cereals Containing Gluten
Sesame Seeds
Soya
Molluscs
Nuts
£9.10
Roast Pork in BBQ Sauce Regular
Contains:
Cereals Containing Gluten
Sesame Seeds
Soya
Molluscs
£6.50
Roast Pork in BBQ Sauce Large
Contains:
Cereals Containing Gluten
Sesame Seeds
Soya
Molluscs
£9.00
Roast Pork in Oyster Sauce Regular
Contains:
Cereals Containing Gluten
Sesame Seeds
Soya
Molluscs
£6.50
Roast Pork in Oyster Sauce Large
Contains:
Cereals Containing Gluten
Sesame Seeds
Soya
Molluscs
£9.00
Roast Pork in Soya Sauce Regular
Contains:
Cereals Containing Gluten
Sesame Seeds
Soya
Molluscs
£6.50
Roast Pork in Soya Sauce Large
Contains:
Cereals Containing Gluten
Sesame Seeds
Soya
Molluscs
£9.00
Roast Pork with Bean Sprouts Regular
Contains:
Cereals Containing Gluten
Sesame Seeds
Soya
Molluscs
£6.50
Roast Pork with Bean Sprouts Large
Contains:
Cereals Containing Gluten
Sesame Seeds
Soya
Molluscs
£9.00
Roast Pork with Onion in Honey Sauce Regular
Contains:
Cereals Containing Gluten
Sesame Seeds
Soya
Molluscs
£6.50
Roast Pork with Onion in Honey Sauce Large
Contains:
Cereals Containing Gluten
Sesame Seeds
Soya
Molluscs
£9.00
Roast Pork with Broccoli in Oyster Sauce Regular
Contains:
Cereals Containing Gluten
Sesame Seeds
Soya
Molluscs
£6.60
Roast Pork with Broccoli in Oyster Sauce Large
Contains:
Cereals Containing Gluten
Sesame Seeds
Soya
Molluscs
£9.10
Roast Pork with Cashew Nuts Regular
Contains:
Cereals Containing Gluten
Sesame Seeds
Soya
Molluscs
Nuts
£6.60
Roast Pork with Cashew Nuts Large
Contains:
Cereals Containing Gluten
Sesame Seeds
Soya
Molluscs
Nuts
£9.10
Roast Pork with Chinese Leaves Regular
Contains:
Cereals Containing Gluten
Sesame Seeds
Soya
Molluscs
£6.50
Roast Pork with Chinese Leaves Large
Contains:
Cereals Containing Gluten
Sesame Seeds
Soya
Molluscs
£9.00
King Prawn in Batter with Lemon (12)
Contains:
Cereals Containing Gluten
Crustaceans
Eggs
Sesame Seeds
Soya
Molluscs
£8.70
King Prawn with Green Pepper In black bean sauce Regular
Contains:
Cereals Containing Gluten
Crustaceans
Eggs
Sesame Seeds
Soya
Molluscs
Peanuts
£7.50
King Prawn with Green Pepper In black bean sauce Large
Contains:
Cereals Containing Gluten
Crustaceans
Eggs
Sesame Seeds
Soya
Molluscs
Peanuts
£10.00
King Prawn in Black Pepper Sauce Regular
Contains:
Cereals Containing Gluten
Crustaceans
Eggs
Sesame Seeds
Soya
Molluscs
Hot & spicy
£7.50
King Prawn in Black Pepper Sauce Large
Contains:
Cereals Containing Gluten
Crustaceans
Eggs
Sesame Seeds
Soya
Molluscs
Hot & spicy
£10.00
King Prawn with Bamboo Shoot Regular
Contains:
Cereals Containing Gluten
Crustaceans
Eggs
Sesame Seeds
Soya
Molluscs
£7.50
King Prawn with Bamboo Shoot Large
Contains:
Cereals Containing Gluten
Crustaceans
Eggs
Sesame Seeds
Soya
Molluscs
£10.00
King Prawn with Pineapple Regular
Contains:
Cereals Containing Gluten
Crustaceans
Eggs
Sesame Seeds
Soya
Molluscs
£7.50
King Prawn with Pineapple Large
Contains:
Cereals Containing Gluten
Crustaceans
Eggs
Sesame Seeds
Soya
Molluscs
£10.00
King Prawn with Tomato Regular
Contains:
Cereals Containing Gluten
Crustaceans
Eggs
Sesame Seeds
Soya
Molluscs
£7.50
King Prawn with Tomato Large
Contains:
Cereals Containing Gluten
Crustaceans
Eggs
Sesame Seeds
Soya
Molluscs
£10.00
King Prawn with English Mushroom Regular
Contains:
Cereals Containing Gluten
Crustaceans
Eggs
Sesame Seeds
Soya
Molluscs
£7.50
King Prawn with English Mushroom Large
Contains:
Cereals Containing Gluten
Crustaceans
Eggs
Sesame Seeds
Soya
Molluscs
£10.00
King Prawn with Chinese Mushroom & Bamboo Shoot Regular
Contains:
Cereals Containing Gluten
Crustaceans
Eggs
Sesame Seeds
Soya
Molluscs
£7.50
King Prawn with Chinese Mushroom & Bamboo Shoot Large
Contains:
Cereals Containing Gluten
Crustaceans
Eggs
Sesame Seeds
Soya
Molluscs
£10.00
King Prawn with Mixed Vegetables Regular
Contains:
Cereals Containing Gluten
Crustaceans
Eggs
Sesame Seeds
Soya
Molluscs
Celery
£7.50
King Prawn with Mixed Vegetables Large
Contains:
Cereals Containing Gluten
Crustaceans
Eggs
Sesame Seeds
Soya
Molluscs
Celery
£10.00
King Prawn with Cashew Nuts in Yellow Bean Sauce Regular
Contains:
Cereals Containing Gluten
Crustaceans
Eggs
Sesame Seeds
Soya
Molluscs
Nuts
£7.60
King Prawn with Cashew Nuts in Yellow Bean Sauce Large
Contains:
Cereals Containing Gluten
Crustaceans
Eggs
Sesame Seeds
Soya
Molluscs
Nuts
£10.10
King Prawn with Oyster Sauce Regular
Contains:
Cereals Containing Gluten
Crustaceans
Eggs
Sesame Seeds
Soya
Molluscs
£7.50
King Prawn with Oyster Sauce Large
Contains:
Cereals Containing Gluten
Crustaceans
Eggs
Sesame Seeds
Soya
Molluscs
£10.10
King Prawn with Ginger & Spring Onion Regular
Contains:
Cereals Containing Gluten
Crustaceans
Eggs
Sesame Seeds
Soya
Molluscs
£7.50
King Prawn with Ginger & Spring Onion Large
Contains:
Cereals Containing Gluten
Crustaceans
Eggs
Sesame Seeds
Soya
Molluscs
£10.00
King Prawn in Garlic Sauce Regular
Contains:
Cereals Containing Gluten
Crustaceans
Eggs
Sesame Seeds
Soya
Molluscs
£7.50
King Prawn in Garlic Sauce Large
Contains:
Cereals Containing Gluten
Crustaceans
Eggs
Sesame Seeds
Soya
Molluscs
£10.00
Grilled King Prawn Peking Style Regular
Contains:
Cereals Containing Gluten
Crustaceans
Eggs
Sesame Seeds
Soya
Molluscs
Hot & spicy
£7.50
Grilled King Prawn Peking Style Large
Contains:
Cereals Containing Gluten
Crustaceans
Eggs
Sesame Seeds
Soya
Molluscs
Hot & spicy
£10.00
King Prawn with Straw Mushroom & Bamboo Shoot Regular
Contains:
Cereals Containing Gluten
Crustaceans
Eggs
Sesame Seeds
Soya
Molluscs
£7.50
King Prawn with Straw Mushroom & Bamboo Shoot Large
Contains:
Cereals Containing Gluten
Crustaceans
Eggs
Sesame Seeds
Soya
Molluscs
£10.00
King Prawn with Broccoli in Oyster Sauce Regular
Contains:
Cereals Containing Gluten
Crustaceans
Eggs
Sesame Seeds
Soya
Molluscs
£7.60
King Prawn with Broccoli in Oyster Sauce Large
Contains:
Cereals Containing Gluten
Crustaceans
Eggs
Sesame Seeds
Soya
Molluscs
£10.10
King Prawn with Chinese Leaves Regular
Contains:
Cereals Containing Gluten
Crustaceans
Eggs
Sesame Seeds
Soya
Molluscs
£7.50
King Prawn with Chinese Leaves Large
Contains:
Cereals Containing Gluten
Crustaceans
Eggs
Sesame Seeds
Soya
Molluscs
£10.00
Roast Duck with Pineapple & Plum Sauce Regular
Contains:
Sesame Seeds
Soya
Molluscs
£7.50
Roast Duck with Pineapple & Plum Sauce Large
Contains:
Sesame Seeds
Soya
Molluscs
£10.00
Roast Duck Chinese Style Regular
Contains:
Sesame Seeds
Soya
Molluscs
£7.60
Roast Duck Chinese Style Large
Contains:
Sesame Seeds
Soya
Molluscs
£10.00
Roast Duck with Pineapple Regular
Contains:
Sesame Seeds
Soya
Molluscs
£7.60
Roast Duck with Pineapple Large
Contains:
Sesame Seeds
Soya
Molluscs
£10.00
Roast Duck with Chinese Mushroom & Bamboo Shoot Regular
Contains:
Sesame Seeds
Soya
Molluscs
£7.50
Roast Duck with Chinese Mushroom & Bamboo Shoot Large
Contains:
Sesame Seeds
Soya
Molluscs
£10.00
Roast Duck with Green Pepper in Black Bean Sauce Regular
Contains:
Sesame Seeds
Soya
Molluscs
Peanuts
£7.50
Roast Duck with Green Pepper in Black Bean Sauce Large
Contains:
Sesame Seeds
Soya
Molluscs
Peanuts
£10.00
Roast Duck with English Mushroom Regular
Contains:
Sesame Seeds
Soya
Molluscs
£7.50
Roast Duck with English Mushroom Large
Contains:
Sesame Seeds
Soya
Molluscs
£10.00
Roast Duck with Black Pepper Sauce Regular
Contains:
Sesame Seeds
Soya
Molluscs
£7.50
Roast Duck with Black Pepper Sauce Large
Contains:
Sesame Seeds
Soya
Molluscs
£10.00
Roast Duck with Mixed Vegetables Regular
Contains:
Sesame Seeds
Soya
Molluscs
Celery
£7.50
Roast Duck with Mixed Vegetables Large
Contains:
Sesame Seeds
Soya
Molluscs
Celery
£10.00
Roast Duck with Straw Mushroom & Bamboo Shoot Regular
Contains:
Sesame Seeds
Soya
Molluscs
£7.50
Roast Duck with Straw Mushroom & Bamboo Shoot Large
Contains:
Sesame Seeds
Soya
Molluscs
£10.00
Roast Duck with Cashew Nuts in Yellow Bean Sauce Regular
Contains:
Sesame Seeds
Soya
Molluscs
Nuts
£7.50
Roast Duck with Cashew Nuts in Yellow Bean Sauce Large
Contains:
Sesame Seeds
Soya
Molluscs
Nuts
£10.10
Roast Duck in Garlic Sauce Regular
Contains:
Sesame Seeds
Soya
Molluscs
£7.50
Roast Duck in Garlic Sauce Large
Contains:
Sesame Seeds
Soya
Molluscs
£10.00
Roast Duck with Ginger & Spring Onion Regular
Contains:
Sesame Seeds
Soya
Molluscs
£7.50
Roast Duck with Ginger & Spring Onion Large
Contains:
Sesame Seeds
Soya
Molluscs
£10.00
Roast Duck in Orange Sauce Regular
Contains:
Sesame Seeds
Soya
Molluscs
£7.70
Roast Duck in Orange Sauce Large
Contains:
Sesame Seeds
Soya
Molluscs
£10.20
Roast Duck in Lemon Sauce Regular
Contains:
Sesame Seeds
Soya
Molluscs
£7.70
Roast Duck in Lemon Sauce Large
Contains:
Sesame Seeds
Soya
Molluscs
£10.20
Fried Shredded Duck Regular
Contains:
Sesame Seeds
Soya
Molluscs
£7.50
Fried Shredded Duck Large
Contains:
Sesame Seeds
Soya
Molluscs
£10.00
Sliced Roast Duck Cantonese Style Regular
Contains:
Sesame Seeds
Soya
Molluscs
£7.50
Sliced Roast Duck Cantonese Style Large
Contains:
Sesame Seeds
Soya
Molluscs
£10.00
Sliced Roast Duck with Bean Sprouts Regular
Contains:
Sesame Seeds
Soya
Molluscs
£7.50
Sliced Roast Duck with Bean Sprouts Large
Contains:
Sesame Seeds
Soya
Molluscs
£10.00
Roast Duck with Cashew Nuts Regular
Contains:
Sesame Seeds
Soya
Molluscs
Nuts
£7.60
Roast Duck with Cashew Nuts Large
Contains:
Sesame Seeds
Soya
Molluscs
Nuts
£10.10
Roast Duck with Broccoli in Oyster Sauce Regular
Contains:
Sesame Seeds
Soya
Molluscs
£7.60
Roast Duck with Broccoli in Oyster Sauce Large
Contains:
Sesame Seeds
Soya
Molluscs
£10.10
Roast Duck with Chinese Leaves Regular
Contains:
Sesame Seeds
Soya
Molluscs
£7.50
Roast Duck with Chinese Leaves Large
Contains:
Sesame Seeds
Soya
Molluscs
£10.00
Squid with Green Pepper & Black Bean Sauce Regular
Contains:
Sesame Seeds
Molluscs
Soya
Peanuts
£7.40
Squid with Green Pepper & Black Bean Sauce Large
Contains:
Sesame Seeds
Molluscs
Soya
Peanuts
£9.90
Squid with Black Pepper Sauce Regular
Contains:
Sesame Seeds
Molluscs
Soya
Hot & spicy
£7.40
Squid with Black Pepper Sauce Large
Contains:
Sesame Seeds
Molluscs
Soya
Hot & spicy
£9.90
Squid with Ginger & Spring Onion Regular
Contains:
Sesame Seeds
Molluscs
Soya
£7.40
Squid with Ginger & Spring Onion Large
Contains:
Sesame Seeds
Molluscs
Soya
£9.90
Squid in Garlic Sauce Regular
Contains:
Sesame Seeds
Molluscs
Soya
£7.40
Squid in Garlic Sauce Large
Contains:
Sesame Seeds
Molluscs
Soya
£9.90
Squid with Mixed Vegetables Regular
Contains:
Sesame Seeds
Molluscs
Soya
Celery
£7.40
Squid with Mixed Vegetables Large
Contains:
Sesame Seeds
Molluscs
Soya
Celery
£9.90
Mussel with Green Pepper in Black Bean Sauce
Contains:
Sesame Seeds
Soya
Molluscs
Peanuts
£7.40
Mussel with Black Pepper Sauce
Contains:
Sesame Seeds
Soya
Molluscs
Hot & spicy
£7.40
Mussel with Ginger & Spring Onion
Contains:
Sesame Seeds
Soya
Molluscs
£7.40
Mussel in Garlic Sauce
Contains:
Sesame Seeds
Soya
Molluscs
£7.40
Sweet & Sour King Prawn Balls (12) - Large
Contains:
Cereals Containing Gluten
Sesame Seeds
Soya
Sulphur Dioxide
Crustaceans
Eggs
£8.70
Sweet & Sour King Prawn Hong Kong Style Regular
Contains:
Cereals Containing Gluten
Sesame Seeds
Soya
Sulphur Dioxide
Crustaceans
Eggs
£8.50
Sweet & Sour King Prawn Hong Kong Style Large
Contains:
Cereals Containing Gluten
Sesame Seeds
Soya
Sulphur Dioxide
Crustaceans
Eggs
£10.50
Sweet & Sour Pork Balls (12) - Large
Contains:
Cereals Containing Gluten
Sesame Seeds
Soya
Sulphur Dioxide
Eggs
£8.70
Sweet & Sour Pork Hong Kong Style Regular
Contains:
Cereals Containing Gluten
Sesame Seeds
Soya
Sulphur Dioxide
Eggs
£6.70
Sweet & Sour Pork Hong Kong Style Large
Contains:
Cereals Containing Gluten
Sesame Seeds
Soya
Sulphur Dioxide
Eggs
£9.10
Sweet & Sour Chicken in Batter (Sliced) (12) - Regular
Contains:
Cereals Containing Gluten
Sesame Seeds
Soya
Sulphur Dioxide
Eggs
£8.70
Sweet & Sour Chicken Balls (12)
Contains:
Cereals Containing Gluten
Sesame Seeds
Soya
Sulphur Dioxide
Eggs
£8.70
Sweet & Sour Chicken Hong Kong Style Regular
Contains:
Cereals Containing Gluten
Sesame Seeds
Soya
Sulphur Dioxide
Eggs
£6.90
Sweet & Sour Chicken Hong Kong Style Large
Contains:
Cereals Containing Gluten
Sesame Seeds
Soya
Sulphur Dioxide
Eggs
£9.30
Sweet & Sour Chicken Chinese Style Regular
Without batter
Contains:
Cereals Containing Gluten
Sesame Seeds
Soya
Sulphur Dioxide
£6.90
Sweet & Sour Chicken Chinese Style Large
Without batter
Contains:
Cereals Containing Gluten
Sesame Seeds
Soya
Sulphur Dioxide
£9.30
Sweet & Sour Spare Ribs - Regular
Contains:
Cereals Containing Gluten
Sesame Seeds
Soya
Sulphur Dioxide
£7.50
Sweet & Sour Mixed Vegetables Regular
Contains:
Cereals Containing Gluten
Sesame Seeds
Soya
Sulphur Dioxide
Celery
£6.10
Sweet & Sour Mixed Vegetables Large
Contains:
Cereals Containing Gluten
Sesame Seeds
Soya
Sulphur Dioxide
Celery
£8.50
Sweet & Sour Sliced Duck Regular
Contains:
Cereals Containing Gluten
Sesame Seeds
Soya
Sulphur Dioxide
£7.90
Sweet & Sour Sliced Duck Large
Contains:
Cereals Containing Gluten
Sesame Seeds
Soya
Sulphur Dioxide
£10.30
Special Mixed Chop Suey Regular
Contains:
Sesame Seeds
Soya
Molluscs
Crustaceans
£6.90
Special Mixed Chop Suey Large
Contains:
Sesame Seeds
Soya
Molluscs
Crustaceans
£9.30
King Prawn Chop Suey Regular
Contains:
Sesame Seeds
Soya
Molluscs
Crustaceans
£7.50
King Prawn Chop Suey Large
Contains:
Sesame Seeds
Soya
Molluscs
Crustaceans
£9.90
Beef Chop Suey Regular
Contains:
Sesame Seeds
Soya
Molluscs
£6.70
Beef Chop Suey Large
Contains:
Sesame Seeds
Soya
Molluscs
£9.10
Roast Pork Chop Suey Regular
Contains:
Sesame Seeds
Soya
Molluscs
£6.70
Roast Pork Chop Suey Large
Contains:
Sesame Seeds
Soya
Molluscs
£9.10
Chicken Chop Suey Regular
Contains:
Sesame Seeds
Soya
Molluscs
£6.70
Chicken Chop Suey Large
Contains:
Sesame Seeds
Soya
Molluscs
£9.10
Mushroom Chop Suey Regular
Contains:
Sesame Seeds
Soya
Molluscs
£5.90
Mushroom Chop Suey Large
Contains:
Sesame Seeds
Soya
Molluscs
£8.30
Roast Duck Chop Suey Regular
Contains:
Sesame Seeds
Soya
Molluscs
£7.20
Roast Duck Chop Suey Large
Contains:
Sesame Seeds
Soya
Molluscs
£9.60
Shrimp Chop Suey Regular
Contains:
Sesame Seeds
Soya
Molluscs
Crustaceans
£6.60
Shrimp Chop Suey Large
Contains:
Sesame Seeds
Soya
Molluscs
Crustaceans
£9.00
House Special Curry Regular
Contains:
Cereals Containing Gluten
Eggs
Sesame Seeds
Soya
Sulphur Dioxide
Crustaceans
£7.20
House Special Curry Large
Contains:
Cereals Containing Gluten
Eggs
Sesame Seeds
Soya
Sulphur Dioxide
Crustaceans
£7.60
King Prawn Curry Regular
Contains:
Cereals Containing Gluten
Eggs
Sesame Seeds
Soya
Sulphur Dioxide
Crustaceans
£7.50
King Prawn Curry Large
Contains:
Cereals Containing Gluten
Eggs
Sesame Seeds
Soya
Sulphur Dioxide
Crustaceans
£9.80
Chicken Curry Regular
Contains:
Cereals Containing Gluten
Eggs
Sesame Seeds
Soya
Sulphur Dioxide
£6.50
Chicken Curry Large
Contains:
Cereals Containing Gluten
Eggs
Sesame Seeds
Soya
Sulphur Dioxide
£9.00
Beef Curry Regular
Contains:
Cereals Containing Gluten
Eggs
Sesame Seeds
Soya
Sulphur Dioxide
£6.50
Beef Curry Large
Contains:
Cereals Containing Gluten
Eggs
Sesame Seeds
Soya
Sulphur Dioxide
£9.00
Shrimp Curry Regular
Contains:
Cereals Containing Gluten
Eggs
Sesame Seeds
Soya
Sulphur Dioxide
Crustaceans
£6.60
Shrimp Curry Large
Contains:
Cereals Containing Gluten
Eggs
Sesame Seeds
Soya
Sulphur Dioxide
Crustaceans
£9.10
Roast Duck Curry Regular
Contains:
Cereals Containing Gluten
Eggs
Sesame Seeds
Soya
Sulphur Dioxide
£7.40
Roast Duck Curry Large
Contains:
Cereals Containing Gluten
Eggs
Sesame Seeds
Soya
Sulphur Dioxide
£9.80
Mushroom Curry Regular
Contains:
Cereals Containing Gluten
Eggs
Sesame Seeds
Soya
Sulphur Dioxide
£6.00
Mushroom Curry Large
Contains:
Cereals Containing Gluten
Eggs
Sesame Seeds
Soya
Sulphur Dioxide
£8.40
Mixed Vegetable Curry Regular
Contains:
Cereals Containing Gluten
Eggs
Sesame Seeds
Soya
Sulphur Dioxide
Celery
£6.00
Mixed Vegetable Curry Large
Contains:
Cereals Containing Gluten
Eggs
Sesame Seeds
Soya
Sulphur Dioxide
Celery
£8.40
Roast Pork Curry Regular
Contains:
Cereals Containing Gluten
Eggs
Sesame Seeds
Soya
Sulphur Dioxide
£6.40
Roast Pork Curry Large
Contains:
Cereals Containing Gluten
Eggs
Sesame Seeds
Soya
Sulphur Dioxide
£8.80
Special in Thai Sauce Regular
King prawn, beef, chicken & pork
Hot & spicy
Contains:
Sesame seeds
Soya
Cereals containing gluten
Eggs
Crustaceans
£7.30
Special in Thai Sauce Large
King prawn, beef, chicken & pork
Hot & spicy
Contains:
Sesame seeds
Soya
Cereals containing gluten
Eggs
Crustaceans
£9.70
Beef in Thai Sauce Regular
Hot & spicy
Contains:
Sesame seeds
Soya
Eggs
£6.90
Beef in Thai Sauce Large
Hot & spicy
Contains:
Sesame seeds
Soya
Eggs
£9.30
Chicken in Thai Sauce Regular
Hot & spicy
Contains:
Sesame seeds
Soya
£6.80
Chicken in Thai Sauce Large
Hot & spicy
Contains:
Sesame seeds
Soya
£9.20
King Prawn in Thai Sauce Regular
Hot & spicy
Contains:
Sesame seeds
Soya
Eggs
Crustaceans
£7.50
King Prawn in Thai Sauce Large
Hot & spicy
Contains:
Sesame seeds
Soya
Eggs
Crustaceans
£9.70
Roast Pork in Thai Sauce Regular
Hot & spicy
Contains:
Sesame seeds
Soya
Cereals containing gluten
£6.50
Roast Pork in Thai Sauce Large
Hot & spicy
Contains:
Sesame seeds
Soya
Cereals containing gluten
£9.70
Roast Duck in Thai Sauce Regular
Hot & spicy
Contains:
Sesame seeds
Soya
£7.50
Roast Duck in Thai Sauce Large
Hot & spicy
Contains:
Sesame seeds
Soya
£8.90
Squid in Thai Sauce Regular
Hot & spicy
Contains:
Sesame seeds
Soya
Molluscs
£7.30
Squid in Thai Sauce Large
Hot & spicy
Contains:
Sesame seeds
Soya
Molluscs
£9.70
Vegetables in Thai Sauce Regular
Hot & spicy
Contains:
Sesame seeds
Soya
Vegetarian
Celery
£5.90
Vegetables in Thai Sauce Large
Hot & spicy
Contains:
Sesame seeds
Soya
Vegetarian
Celery
£8.30
Special Sambal Regular
King prawn, beef, chicken & pork
Hot & spicy
Contains:
Cereals containing gluten
Crustaceans
Molluscs
Sesame seeds
Soya
£7.20
Special Sambal Large
King prawn, beef, chicken & pork
Hot & spicy
Contains:
Cereals containing gluten
Crustaceans
Molluscs
Sesame seeds
Soya
£9.60
Beef Sambal Regular
Hot & spicy
Contains:
Cereals containing gluten
Crustaceans
Molluscs
Sesame seeds
Soya
Eggs
£6.90
Beef Sambal Large
Hot & spicy
Contains:
Cereals containing gluten
Crustaceans
Molluscs
Sesame seeds
Soya
Eggs
£9.30
Chicken Sambal Regular
Hot & spicy
Contains:
Cereals containing gluten
Crustaceans
Molluscs
Sesame seeds
Soya
£7.00
Chicken Sambal Large
Hot & spicy
Contains:
Cereals containing gluten
Crustaceans
Molluscs
Sesame seeds
Soya
£9.20
King Prawn Sambal Regular
Hot & spicy
Contains:
Cereals containing gluten
Crustaceans
Molluscs
Sesame seeds
Soya
Eggs
£7.50
King Prawn Sambal Large
Hot & spicy
Contains:
Cereals containing gluten
Crustaceans
Molluscs
Sesame seeds
Soya
Eggs
£9.90
Roast Pork Sambal Regular
Hot & spicy
Contains:
Cereals containing gluten
Crustaceans
Molluscs
Sesame seeds
Soya
£6.70
Roast Pork Sambal Large
Hot & spicy
Contains:
Cereals containing gluten
Crustaceans
Molluscs
Sesame seeds
Soya
£9.10
Roast Duck Sambal Regular
Hot & spicy
Contains:
Cereals containing gluten
Crustaceans
Molluscs
Sesame seeds
Soya
£7.50
Roast Duck Sambal Large
Hot & spicy
Contains:
Cereals containing gluten
Crustaceans
Molluscs
Sesame seeds
Soya
£9.90
Squid Sambal Regular
Hot & spicy
Contains:
Cereals containing gluten
Crustaceans
Molluscs
Sesame seeds
Soya
£7.30
Squid Sambal Large
Hot & spicy
Contains:
Cereals containing gluten
Crustaceans
Molluscs
Sesame seeds
Soya
£9.70
King Prawn in Peking Sauce Regular
Contains:
Cereals containing gluten
Eggs
Fish
Soya
Sulphur dioxide
Crustaceans
£7.50
King Prawn in Peking Sauce Large
Contains:
Cereals containing gluten
Eggs
Fish
Soya
Sulphur dioxide
Crustaceans
£9.90
Chicken in Peking Sauce Regular
Contains:
Cereals containing gluten
Eggs
Fish
Soya
Sulphur dioxide
£6.80
Chicken in Peking Sauce Large
Contains:
Cereals containing gluten
Eggs
Fish
Soya
Sulphur dioxide
£9.20
Beef in Peking Sauce Regular
Contains:
Cereals containing gluten
Eggs
Fish
Soya
Sulphur dioxide
£6.90
Beef in Peking Sauce Large
Contains:
Cereals containing gluten
Eggs
Fish
Soya
Sulphur dioxide
£9.30
Roast Pork in Peking Sauce Regular
Contains:
Cereals containing gluten
Eggs
Fish
Soya
Sulphur dioxide
£6.70
Roast Pork in Peking Sauce Large
Contains:
Cereals containing gluten
Eggs
Fish
Soya
Sulphur dioxide
£9.10
Roast Duck in Peking Sauce Regular
Contains:
Cereals containing gluten
Eggs
Fish
Soya
Sulphur dioxide
£7.50
Roast Duck in Peking Sauce Large
Contains:
Cereals containing gluten
Eggs
Fish
Soya
Sulphur dioxide
£9.90
Squid in Peking Sauce Regular
Contains:
Cereals containing gluten
Eggs
Fish
Soya
Sulphur dioxide
Molluscs
£7.30
Squid in Peking Sauce Large
Contains:
Cereals containing gluten
Eggs
Fish
Soya
Sulphur dioxide
Molluscs
£9.70
Mixed Vegetables in Peking Sauce Regular
Contains:
Cereals containing gluten
Eggs
Fish
Soya
Sulphur dioxide
Vegetarian
Celery
£5.90
Mixed Vegetables in Peking Sauce Large
Contains:
Cereals containing gluten
Eggs
Fish
Soya
Sulphur dioxide
Vegetarian
Celery
£8.30
King Prawn with Mongolian Sauce Regular
Hot & Spicy
Contains:
Sesame seeds
Soya
Crustaceans
Eggs
£7.50
King Prawn with Mongolian Sauce Large
Hot & Spicy
Contains:
Sesame seeds
Soya
Crustaceans
Eggs
£9.90
Chicken with Mongolian Sauce Regular
Hot & Spicy
Contains:
Sesame seeds
Soya
Eggs
£6.80
Chicken with Mongolian Sauce Large
Hot & Spicy
Contains:
Sesame seeds
Soya
Eggs
£9.20
Beef with Mongolian Sauce Regular
Hot & Spicy
Contains:
Sesame seeds
Soya
Eggs
£6.90
Beef with Mongolian Sauce Large
Hot & Spicy
Contains:
Sesame seeds
Soya
Eggs
£9.30
Roast Pork with Mongolian Sauce Regular
Hot & Spicy
Contains:
Sesame seeds
Soya
Cereals containing gluten
£6.70
Roast Pork with Mongolian Sauce Large
Hot & Spicy
Contains:
Sesame seeds
Soya
Cereals containing gluten
£9.10
Roast Duck with Mongolian Sauce Regular
Hot & Spicy
Contains:
Sesame seeds
Soya
£7.50
Roast Duck with Mongolian Sauce Large
Hot & Spicy
Contains:
Sesame seeds
Soya
£9.90
Szechuan King Prawn Regular
Hot & spicy
Contains:
Cereals containing gluten
Peanuts
Sesame seeds
Soya
Crustaceans
Eggs
£7.50
Szechuan King Prawn Large
Hot & spicy
Contains:
Cereals containing gluten
Peanuts
Sesame seeds
Soya
Crustaceans
Eggs
£9.90
Szechuan Chicken Regular
Hot & spicy
Contains:
Cereals containing gluten
Peanuts
Sesame seeds
Soya
£6.80
Szechuan Chicken Large
Hot & spicy
Contains:
Cereals containing gluten
Peanuts
Sesame seeds
Soya
£9.20
Szechuan Beef Regular
Hot & spicy
Contains:
Cereals containing gluten
Peanuts
Sesame seeds
Soya
Eggs
£6.90
Szechuan Beef Large
Hot & spicy
Contains:
Cereals containing gluten
Peanuts
Sesame seeds
Soya
Eggs
£9.30
Szechuan Roast Duck Regular
Hot & spicy
Contains:
Cereals containing gluten
Peanuts
Sesame seeds
Soya
£7.50
Szechuan Roast Duck Large
Hot & spicy
Contains:
Cereals containing gluten
Peanuts
Sesame seeds
Soya
£9.90
Szechuan Roast Pork Regular
Hot & spicy
Contains:
Cereals containing gluten
Peanuts
Sesame seeds
Soya
£6.70
Szechuan Roast Pork Large
Hot & spicy
Contains:
Cereals containing gluten
Peanuts
Sesame seeds
Soya
£9.10
Szechuan Squid Regular
Hot & spicy
Contains:
Cereals containing gluten
Peanuts
Sesame seeds
Soya
Molluscs
£7.30
Szechuan Squid Large
Hot & spicy
Contains:
Cereals containing gluten
Peanuts
Sesame seeds
Soya
Molluscs
£9.70
Szechuan Mixed Vegetables Regular
Hot & spicy
Contains:
Cereals containing gluten
Peanuts
Sesame seeds
Soya
Vegetarian
Celery
£5.90
Szechuan Mixed Vegetables Large
Hot & spicy
Contains:
Cereals containing gluten
Peanuts
Sesame seeds
Soya
Vegetarian
Celery
£8.30
Kung Po King Prawn Regular
Hot & spicy
Contains:
Cereals containing gluten
Fish
Peanuts
Sesame seeds
Soya
Sulphur dioxide
Crustaceans
Eggs
£7.50
Kung Po King Prawn Large
Hot & spicy
Contains:
Cereals containing gluten
Fish
Peanuts
Sesame seeds
Soya
Sulphur dioxide
Crustaceans
Eggs
£9.90
Kung Po Chicken Regular
Hot & spicy
Contains:
Cereals containing gluten
Fish
Peanuts
Sesame seeds
Soya
Sulphur dioxide
Eggs
£6.80
Kung Po Chicken Large
Hot & spicy
Contains:
Cereals containing gluten
Fish
Peanuts
Sesame seeds
Soya
Sulphur dioxide
Eggs
£9.20
Kung Po Beef Regular
Hot & spicy
Contains:
Cereals containing gluten
Fish
Peanuts
Sesame seeds
Soya
Sulphur dioxide
Eggs
£6.90
Kung Po Beef Large
Hot & spicy
Contains:
Cereals containing gluten
Fish
Peanuts
Sesame seeds
Soya
Sulphur dioxide
Eggs
£9.30
Kung Po Roast Duck Regular
Hot & spicy
Contains:
Cereals containing gluten
Fish
Peanuts
Sesame seeds
Soya
Sulphur dioxide
£7.50
Kung Po Roast Duck Large
Hot & spicy
Contains:
Cereals containing gluten
Fish
Peanuts
Sesame seeds
Soya
Sulphur dioxide
£9.90
Kung Po Roast Pork Regular
Hot & spicy
Contains:
Cereals containing gluten
Fish
Peanuts
Sesame seeds
Soya
Sulphur dioxide
£6.80
Kung Po Roast Pork Large
Hot & spicy
Contains:
Cereals containing gluten
Fish
Peanuts
Sesame seeds
Soya
Sulphur dioxide
£9.10
Kung Po Squid Regular
Hot & spicy
Contains:
Cereals containing gluten
Fish
Peanuts
Sesame seeds
Soya
Sulphur dioxide
Eggs
Molluscs
£7.30
Kung Po Squid Large
Hot & spicy
Contains:
Cereals containing gluten
Fish
Peanuts
Sesame seeds
Soya
Sulphur dioxide
Eggs
Molluscs
£9.70
Special Mixed Egg Foo Yung
Contains:
Eggs
Sesame seeds
Cereals containing gluten
Crustaceans
Soya
£6.40
King Prawn Foo Yung
Contains:
Eggs
Sesame seeds
Crustaceans
£7.10
Shrimp Foo Yung
Contains:
Eggs
Sesame seeds
Crustaceans
£6.00
Shredded Roast Pork Foo Yung
Contains: 
Eggs
Sesame seeds
Cereals containing gluten
Soya
£6.00
Shredded Chicken Foo Yung
Contains:
Eggs
Sesame seeds
£6.00
Mushroom Foo Yung
Contains:
Eggs
Sesame seeds
Vegetarian
£5.50
Plain Foo Yung
Contains:
Eggs
Sesame seeds
Vegetarian
£5.50
Crab Meat Stick Foo Yung
Contains:
Eggs
Sesame seeds
Crustaceans
£6.00
Special Mixed Omelette with Chips
Contains:
Eggs
Sesame seeds
Soya
Cereals containing gluten
Crustaceans
£7.40
King Prawn Omelette with Chips
Contains:
Eggs
Sesame seeds
Soya
Crustaceans
£7.80
Shrimp Omelette with Chips
 Contains:
Eggs
Sesame seeds
Soya
Crustaceans
£7.10
Chicken Omelette with Chips
Contains:
Eggs
Sesame seeds
Soya
£7.10
Roast Duck Omelette with Chips
Contains:
Eggs
Sesame seeds
Soya
£7.40
Mushroom Omelette with Chips
Contains:
Eggs
Sesame seeds
Soya
Vegetarian
£6.90
Plain Omelette with Chips
Contains:
Eggs
Sesame seeds
Soya
Vegetarian
£6.90
Tomato Omelette with Chips
Contains:
Eggs
Sesame seeds
Soya
Vegetarian
£6.90
Roast Chicken with Chips & BBQ Sauce
Contains: Cereals containing gluten
Sesame seeds
Soya
£8.50
Roast Chicken with Chips in Gravy
Contains: Cereals containing gluten
£8.50
English Mushroom
Contains:
Molluscs
Sesame seeds
Vegetarian
£5.10
English Mushroom (Dry)
Contains:
Molluscs
Sesame seeds
Vegetarian
£5.10
Chinese Mushroom & Bamboo Shoot
Contains:
Molluscs
Sesame seeds
Vegetarian
£5.50
Fried Onion
Contains:
Molluscs
Sesame seeds
Vegetarian
£5.10
Fried Mixed Vegetables
Contains:
Molluscs
Sesame seeds
Vegetarian
Celery
£5.10
Fried Bamboo Shoot
Contains:
Molluscs
Sesame seeds
Vegetarian
£5.10
Crab Meat Stick with Straw Mushroom
Contains:
Molluscs
Sesame seeds
Crustaceans
£6.00
Fried Broccoli in Oyster Sauce
Contains:
Molluscs
Sesame seeds
Vegetarian
£6.00
Fried Bean Sprouts
Contains:
Molluscs
Sesame seeds
Vegetarian
£5.10
Pineapple Fritter in Syrup
£4.50
Crab Meat & Sweet Corn Soup
Contains:
Sesame seeds
Crustaceans
Eggs
£3.50
Chicken & Sweet Corn Soup
Contains:
Sesame seeds
Eggs
£3.50
Chicken & Noodle Soup
Contains:
Sesame seeds
Cereals containing gluten
£3.50
Chicken with English Mushroom Soup
Contains:
Sesame seeds
£3.50
Chicken with Chinese Mushroom Soup
Contains:
Sesame seeds
£3.50
Won Ton Soup
Contains:
Sesame seeds
Cereals containing gluten
Crustaceans
£3.60
Hot & Sour Soup
Hot & spicy
Contains:
Sesame seeds
Crustaceans
Eggs
£3.60
West Lake Beef Soup
Contains:
Sesame seeds
Eggs
£3.60
Mixed Vegetable Soup
Vegetarian
Contains:
Sesame seeds
Celery
£3.40
King Prawn & Sweet Corn Soup
Contains:
Sesame seeds
Crustaceans
Eggs
£4.10
Sweet Corn Soup
Vegetarian
Contains:
Sesame seeds
Eggs
£3.40
Tom Yam Soup
Vegetarian
Hot & spicy
Contains:
Sesame seeds
Peanuts
Soya
£3.40
Chicken Tom Yam Soup
Hot & spicy
Contains:
Sesame seeds
Peanuts
Soya
£3.70
King Prawn Tom Yam Soup
Hot & spicy
Contains:
Sesame seeds
Crustaceans
Eggs
Peanuts
Soya
£4.20
Spicy Salt & Chilli Chips with Chicken
Hot & spicy
Contains:
Cereals containing gluten
Eggs
Sesame seeds
Soya
£10.00
Spicy Salt & Chilli Chips with Chicken Wings
Hot & spicy
Contains:
Crustaceans
Sesame seeds
£10.00
Spicy Salt & Chilli Chips with Spare Ribs
Hot & spicy
Contains:
Cereals containing gluten
Fish
Sesame seeds
Soya
£10.00
Spicy Salt & Chilli Chips with Chicken
Chicken Wings & Spare Ribs
Hot & spicy
Contains:
Cereals containing gluten
Fish
Sesame seeds
Soya
£11.00
Contact Us
Find Us
1 Brook Street, Kent, DA81JJ
We deliver to
DA1, DA16, DA17, DA18, DA5, DA6, DA7, DA8, SE2